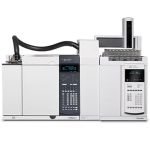 Blood Alcohol Analyzer
The Agilent dual-channel blood alcohol analyzer meets the challenges of a high-demand application by quickly delivering reproducible and court-defendable data.
The Agilent blood alcohol analyzer along with the Agilent 7697A headspace sampler offers rapid cycle time to maximize sample throughput with no carry over.
For Forensic Use
---
Features
Agilent 8890 GC system
Agilent 7697A headspace sampler.
Dual FID configuration with single injector split into two columns.
Preconfigured and tested to meet blood alcohol analysis and reporting requirements.
Analysis of blood alcohol content (including columns, checkout samples, and analytical method) facilitates adaptation to your laboratory's standard procedures.
Installation includes verification using Agilent's 12-compound Blood Alcohol checkout mix.
DVD with optimized acquisition method for residual solvent analysis and quick start guide for faster method validation.
On-site installation and check out of the analyzer's performance by a factory-certified technician confirms that your instrument and application meet Agilent's analytical performance criteria.
---