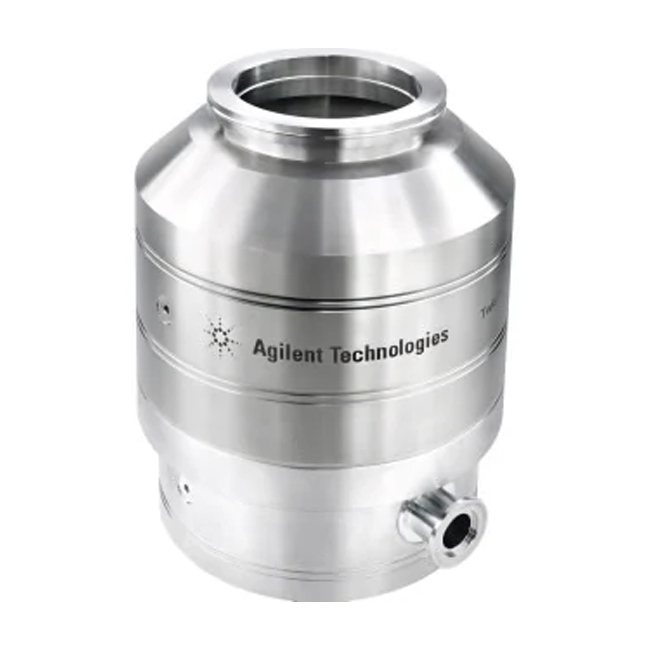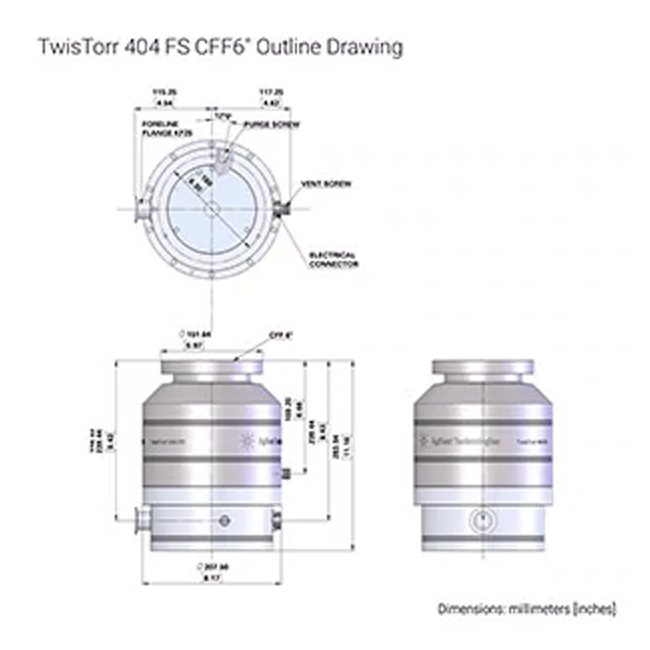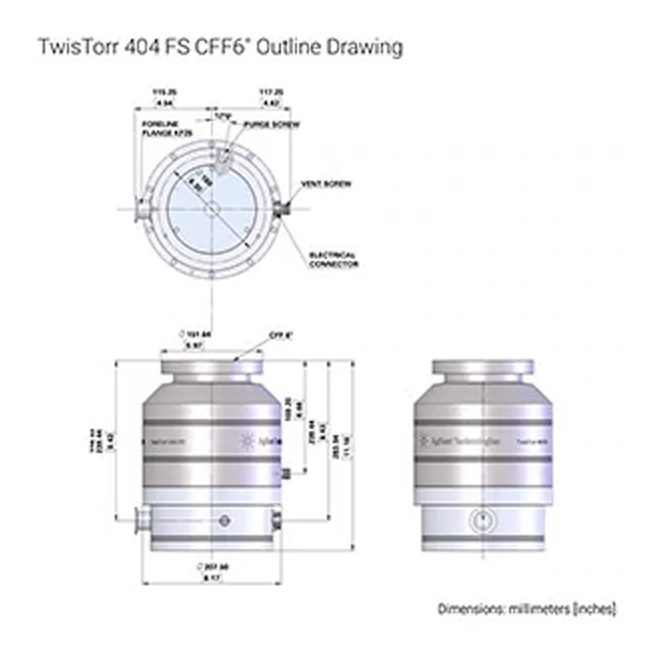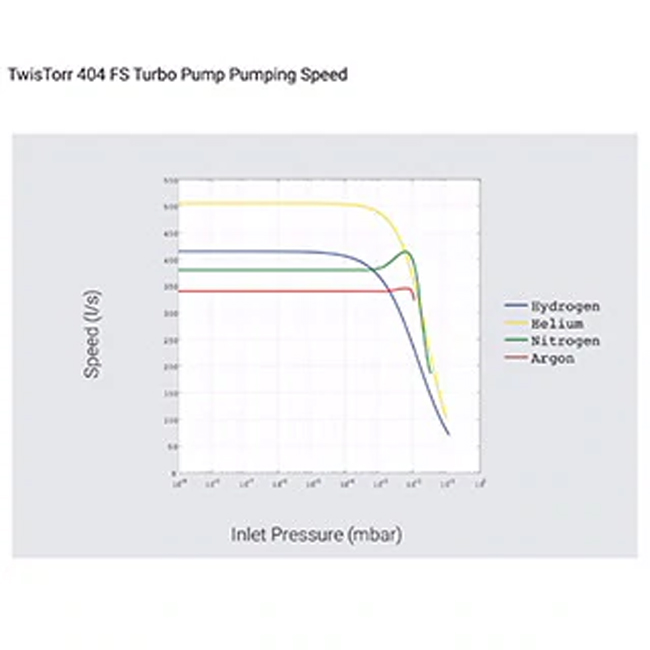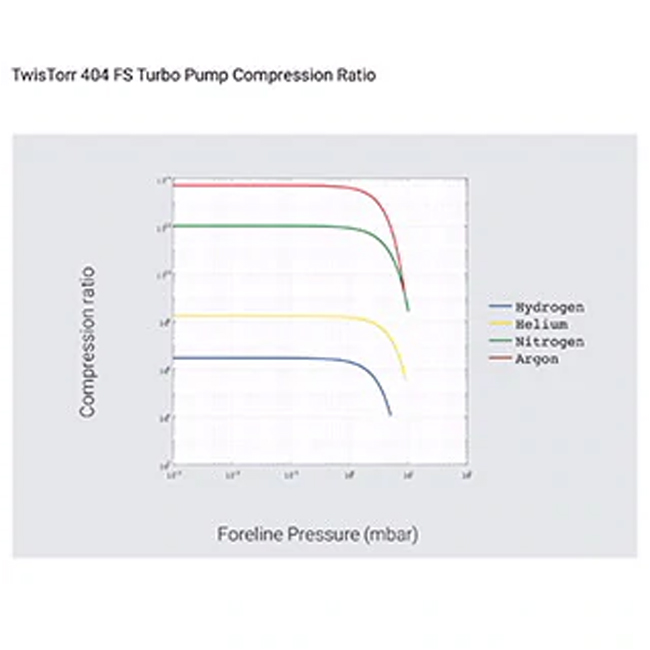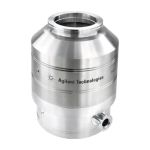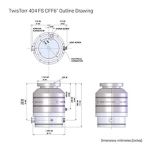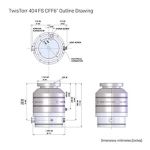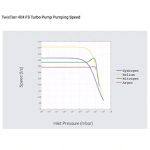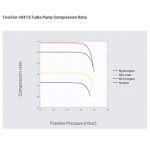 TwisTorr 404 FS
The Agilent 400 L/s medium turbo pump, TwisTorr 404 FS, combines TwisTorr drag stage technology and Agilent Floating Suspension (FS) to provide high performance, reliability, and economy. This 400 liter turbomolecular pump delivers high vacuum performance thanks to the synergy between turbo technology and innovative TwisTorr drag stages. Floating Suspension assures low vibration and acoustical noise for compatibility with sensitive instrumentation and work environments.
The TwisTorr 404 FS is perfectly suited for a wide range of applications, including research and development, UHV systems, nuclear research, ion implanters, surface analysis, electron microscopy, and cryogenics.
The TwisTorr 404 FS is available with onboard or rack controllers.
---
Features
Innovative TwisTorr technology – high compression ratio for light gases, such as Helium and Hydrogen, provides high performance and minimal system footprint.
High foreline tolerance – permits use of smaller backing pump, thereby reducing system cost and size.
Agilent Floating Suspension – low vibration and acoustical noise, as well as optimal bearing working conditions, extend operating life to optimize cost-of-ownership, minimize system downtime, and assure stable performance over time.
Unique bearing and dry lubrication – maintenance free, oil-free; allows installation in any orientation.
"Three dimensional" pump control software provides maximum flexibility, speed, and simplicity – for the best throughput and compression performance according to the operating conditions of the pump.
Typical Turbo Pump Applications
---
Specifications
Pumping speed:
ISO 100K / ISO 100F / CFF 6″
N2
380 L/s
He
505 L/s
H2
415 L/s
Ar
340 L/s
Max Gas
Air Cooling
Water Cooling
Throughput (*)
(25°C ambient temperature)
(15 °C water temperature /
 
25 °C ambient temperature)
N2
4.3 mbar L/s
6.2 mbar L/s
255 SCCM
367 SCCM
He
7.9 mbar L/s
10.4 mbar L/s
467 SCCM
615 SCCM
Ar
1.5 mbar L/s
3.3 mbar L/s
89 SCCM
195 SCCM
(*) Backing pump 11.6 m3/hr
Compression ratio and foreline tolerance*
N2
>1 x 1011
10 mbar
He
  2 x 108
10 mbar
H2
  3 x 106
>4 mbar
Ar
>1 x 1011
8.5 mbar
(**) Foreline Tolerance defined as the pressure at which the turbopump still produce a compression of 100 and estimated in water cooling mode
Base pressure with recommended forepump
< 1 x 10-10 mbar
(< 1 x 10-10 Torr)
Inlet flange
ISO 100K, ISO 100F, CFF 6"
Foreline flange
NW25 (NW16 as optional accessory)
Rotational speed
Auto setting from 40800 RPM to 49500 RPM
Start-up time
< 5 minutes
Recommended forepump
Agilent DS302 Rotary Vane Pump
Agilent IDP-10 Dry Scroll Pump
Agilent IDP-15 Dry Scroll Pump
Operating position
Any
Oper. ambient temperature
 +5 °C to +35 °C
Relative humidity of air
0 to 90% (not condensing)
Bakeout temperature
ISO pump: 80°C at inlet flange
CFF pump: 120°C at inlet flange
Lubricant
Permanent lubrication
Cooling requirements
Air cooling
Air temperature from +5°C to 35°C
Water cooling
Water temperature from +15°C to +25°C
Water flow min. 100L/h
Noise Pressure Level
43dB(A)
(at 1m at full speed)
Storage temperature
-40 °C to +70 °C
Max altitude
3000 m
Weight kg (lbs)
ISO100K
22.6 kg (49.8)
ISO100F
23.7 kg (52.3)
CFF 6″
23.5 kg (51.8)
Conformity to norms
EMC (Control Units)
61326-1
Safety (CE/CSA)
61010-1
Machinery Directive
DIR 2006/42/CE
Low Voltage Directive
DIR 2014/35/EU
EMC Directive (Control Units)
DIR 2014/30/EU
ROHS
DIR 2011/65/EU
---