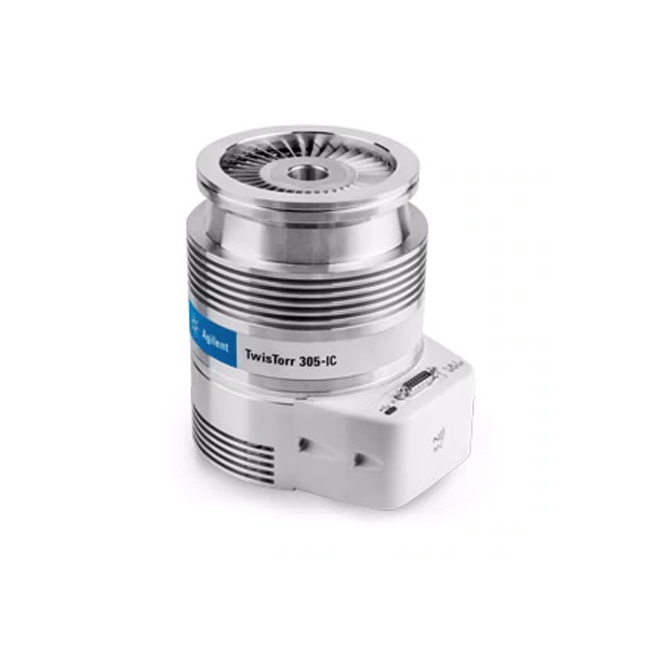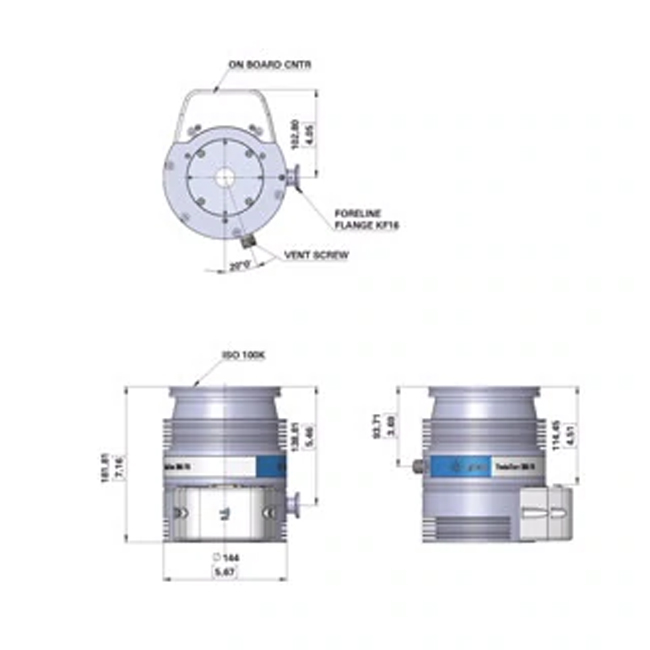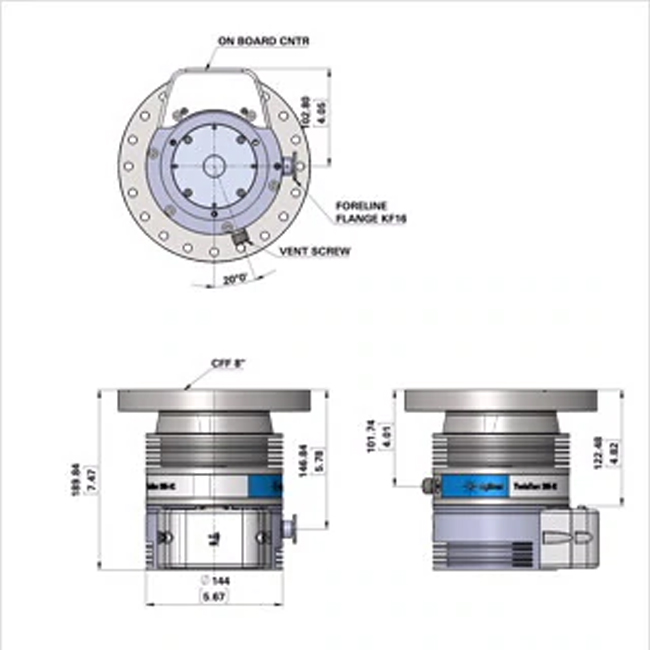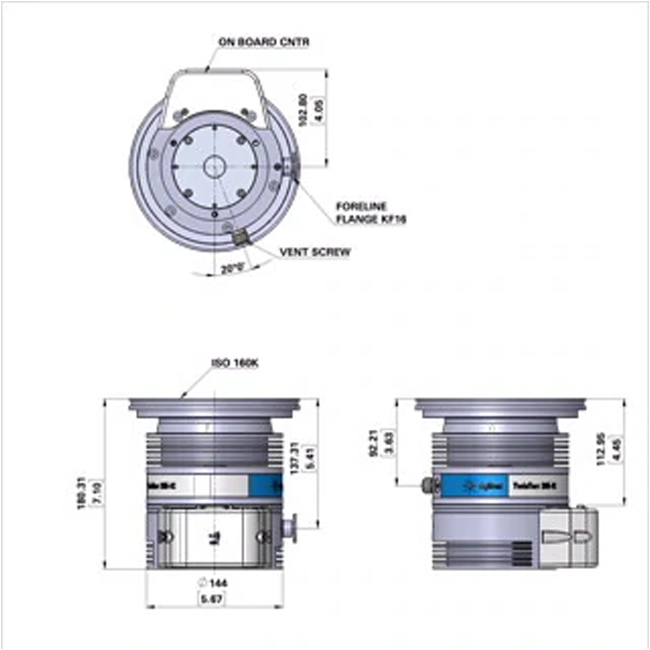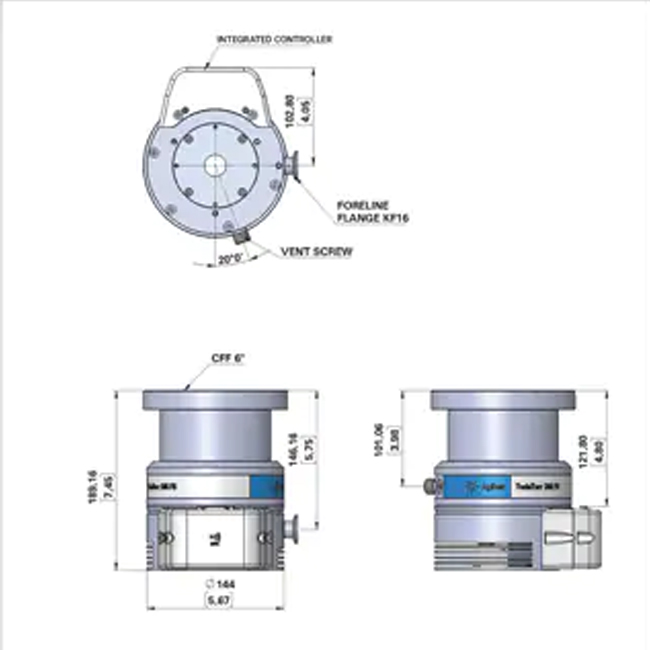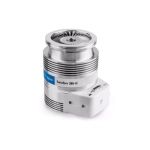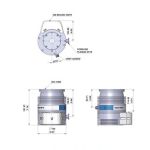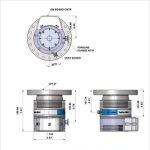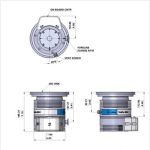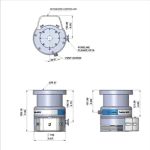 TwisTorr 305-IC Turbo Pump with Integrated Controller
The TwisTorr 305-IC turbomolecular pump with integrated controller features a revolutionary design and smart connectivity through near-field communication (NFC).
This 300 L/s turbo pump communicates seamlessly with the Vacuum Link app.
Due to its compact form factor and small size, the TwisTorr 305-IC is ideal for use in any instrument and any industrial application requiring a high compression ratio and low vibration.
---
Features
New generation integrated control unit
Low noise levels – 41 dB(A) at full speed
High compression ratios for light gases
Compact size
Smart power management
Oil-free solution
Low-maintenance cost
Multiple configurations available for various flange sizes and air/water cooling
Full range of accessories
---
Specifications
Pumping speed
ISO 100 K / CFF 6"/ ISO 160 K / CFF 8"
N2
250 L/s
He
255 L/s
H2
220 L/s
Ar
250 L/s
Max gas flow rate
N2
250 SCCM
Compression ratio
N2
> 1 x 1011
He
> 1 x 108
H2
1.5 x 106
Ar
> 1 x 1011
Max foreline pressure tolerance N2
12 mbar
Base pressure with recommended forepump
 <1 x 10 -10 mbar
(<1 x 10 -10 Torr)
Inlet flange
ISO 100 K, CFF 6", ISO 160 K, CFF 8"
Foreline flange
KF16 NW (KF25 – optional)
Rotational speed
60000 rpm (1010 Hz driving frequency)
Start-up time
< 3 minutes (longer when soft start is used)
Recommended forepump
Dry pumps: IDP-3 (no gas flow), IDP-7, IDP-10,
Mechanical: DS102, DS302
Operating position
Any
Oper. ambient temperature
+5 °C to +35 °C
Bakeout temperature
Max 80 °C at inlet flange
Lubricant
Permanent lubrication
Cooling requirements
Air cooling
Natural convection (only with no gas load)
Forced air (5- 35 °C ambient temperature)
Water cooling
Minimum flow: 50 l/h (0.22 GPM)
Temperature: +15 °C to +30 °C
Max pressure: 5 bar (75 psi)
Noise pressure level
41 dB(A)
(at 1m at full speed)
Storage temp.
-40°C to +70°C
Weight kg (lbs)
ISO 100 K    5,84 kg (12,8)
TwisTorr 305 FS
CFF 6''         8,16 kg (17,9)
 
ISO 160 K     6,28 kg (13,8)
 
CFF 8''        10.43 kg (22.9)
Compliance with:
EN 61010-1
EN 61326-1
EN 1012-2
EN 12100
EN 50581
Machinery Directive 2006/42/EC
Electromagnetic Compatibility Directive
2014/30/EU Directive 2011/65/EU
Power supply (24 Vdc):
Input voltage
Max input power
Stand-by power
Max operating power
24 Vdc
200 W
10 W
150 W with water or air cooling
Protection fuse
8 A
USB communication
as per USB 1.1
---