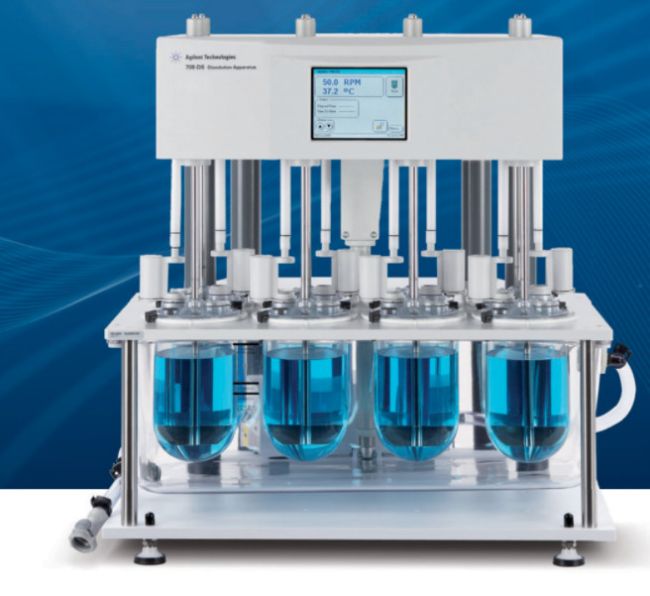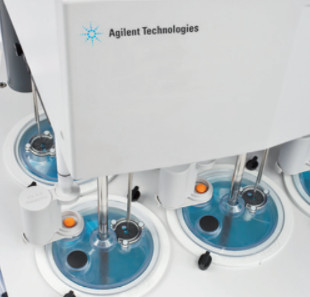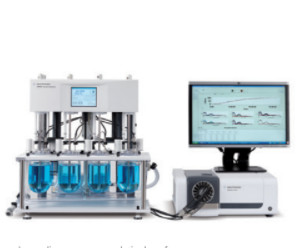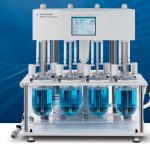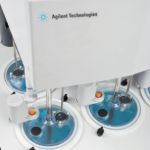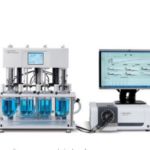 708-DS Dissolution Apparatus
The 708-DS dissolution apparatus is a modular system designed for manual or automated dissolution testing. The instrument can be configured for use with baskets (Apparatus 1), paddles (Apparatus 2), paddle over disk assemblies (Apparatus 5), and rotating cylinders (Apparatus 6), and can accommodate vessel sizes from 100 mL to 2 L.
The rugged, yet versatile, 708-DS minimizes external variable influences and is designed for reproducibility and ease of qualification. The instrument is designed to meet or exceed the pharmacopoeial requirements of regulatory bodies around the world.
---
Features
Automated or manual dosage delivery options, in-vessel temperature monitoring, and sampling options
Interchangeable dissolution accessory components to maintain the correct height
Touch panel display enables easy navigation
Language options include English, Spanish, Japanese, and Simplified Chinese
708-DS TruAlign vessels ensure correct vessel alignment
Easy priming heater/circulator sits behind water bath to save valuable bench space with minimal vibration
Decrease cleaning time with the angled water bath—makes cleaning easy and efficient
Integrate with Agilent Dissolution Workstation Software for automated control of up to four systems from one PC
Online analysis via the Agilent Cary 60 UV-Vis Spectrophotometer and Agilent Cary WinUV Dissolution Software
---
Technology
The 708-DS combines key design elements to help you deliver missioncritical information with confidence
Simplicity:  Intuitive setup and monitoring via touch screen or software make it easy to execute daily tests and learn new techniques quickly.
Troubleshooting:  Automation of key steps reduces variability, while enhanced messaging and alerts ease data investigations.
Documentation:  Integrated or software-based test information is electronically recorded— saving you time and limiting manual transcription errors.
Maximize efficiency with enhanced manual dissolution, combined with semi-automated and online access features.
Productivity: Scalable capabilities meet your lab's current and future needs, while easy-to-implement automation reduces variability and improves efficiency.
Reliability: Minimize downtime with proven instrumentation supported by experienced specialists and engineers.
Compliance:  Built-in controls and traceability help your lab conform to regulations. You can also ease the burden of audits with Agilent dissolution software.
The 708-DS is surrounded by hardware, software, and accessories that enable you to make sound decisions.
Confidence: More than 30 years of dissolution industry experience and a worldwide team of experts support your development, scale-up, and training.
Return on investment:  Reduce day-to-day errors, automate key operations, and avoid costly downtime and investigations.
 Security:  You can depend on Agilent hardware and software for years to come because we've been meeting worldwide regulations for decades.
---