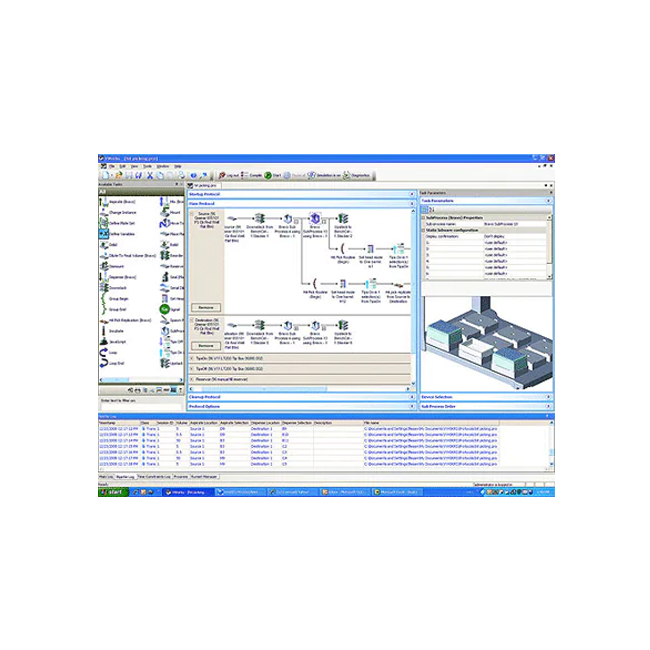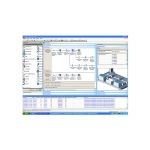 VWorks Automation Control Software
Agilent VWorks Automation Control software is a complete solution for driving the integration of laboratory automation throughout the discovery process.
With the VWorks software platform, you can integrate diverse devices such as robotics, liquid handlers, readers, and washers into one cohesive, integrated system that ensures maximum throughput and optimal resource utilization. An intuitive graphical user interface makes it easier for users to create and run protocols, connect and configure devices, and monitor progress. The scalable and dynamic platform can help reduce training costs, rapidly embrace new standards, and maximize productivity while expanding automation into a complex network of integrated devices.
---
Features
Meet changing requirements – Add and configure new devices using any programming language, and communicate with external Laboratory Information Systems (LIMS).
Execute multiple protocols simultaneously – Schedule and start a run while existing protocols are already running or start multiple protocols at a fixed time.
Remove bottlenecks to improve performance – Monitor a Gantt Chart for real time status of processes, plate instances, and devices.
Reduce operating costs – Use the Hit Pick Wizard to automate cherry picking based on an input work list, and capture plate replication and dilution data.
Comply with 21CFR Part 11 – VWorks includes technical tools to help you meet compliance requirments.
Simplify protocol writing – Group commonly repeated tasks into Group Macros.
Maximize walkaway time – Preload automatic recovery actions in response to nuisance errors in the error handling library.
Set time constraints – Improve performance for time-critical assays by specifying the interval and tolerance between dependent tasks.
Minimize delays – Use the Solid State Editor to recover from deadlocks and continue with the run especially in complex protocols.
Maintain consistency – Control the sequence of liquid-handling tasks so that each microplate is handled the same way, in the same sequence.
Find context-relevant help – Open help topic based on selection in software.
Streamline protocol writing – Write JavaScript in VWorks protocols intuitively using a pull-down menu of available variables.
Advanced looping – Set up and increment variables, plates, and quadrants in a loop intuitively.
Control protocols based on real-time data – Execute protocols based on dynamic data presented in real time.
Control protocols based on events – Reduce lag time and boost throughput by processing plates as soon as both plates and system resources become available.
True-device pooling – Increase reliability and walkaway time through intelligent routing of plate processing tasks to appropriate operating devices.
JavaScript engine – Customize task parameters, skip or repeat a task if certain conditions are met.
---
This study highlights the high-throughput application of the AssayMAP Bravo platform for automated and reproducible sample preparation for glycan profiling.
An automated solution for N-glycan profiling from antibody-drug conjugate sample using an AssayMAP Bravo Liquid Handling Platform and Agilent 1290 Infinity LC system
A new method wasdeveloped to automate library construction for the Illumina sequencing platform.
A new method was developed to automate RNA isolation in a 96-well format using the Bravo Automated Liquid Handling Platform and Absolutely RNA 96 Microprep Kit from Agilent Te
Application bulletin for the Agilent Cell Viability Workstation
Application note for Cytochrome P450 Assay on the Agilent BioCel 900 System
The combination of the Agilent Bravo Automated Liquid Handling Platform and the Agilent BenchCel Microplate Handling Workstation provides a flexible, efficient and compact app
安捷伦科技的自动化解决方案部门和Stratagene 部门联合开发了利用Bravo 自动
The Agilent Bravo Automated Liquid Handling Platform provides unparalleled versatility, speed, and precision in a compact footprint.
The original Agilent Microplate Labeler G5404A quickly became a widely-used platform for ondemand, barcode print-and-apply applications in the life sciences.
The Agilent Labware MiniHub is a rotating random-access device for presenting and storing SBS-format labware in laboratory automation systems.
Introduction, features, benefits, and technical specifications for the Labware Stacker for use with the BioCel system or your own automated system.
安捷伦VWorks 自动控制软件(VWorks Automation Control Software)能直接控制集成的实验室自动化系统,提供一套完整、可靠的实验室自动化解决方案。VWorks 软件平台可以将机器人、液体处理平台、读板机、洗板机等设备整合在一起,帮助研究机构集成一套完整的实验室自动化处理平台,这样既能最大限度的提高通量也将
---
Services
Agilent core services help control cost and increase productivity in your lab. Multi-vendor coverage extends the benefits to your non-Agilent instruments as well.
There is also an opportunity to gain a strategic advantage. Consider a total lab management solution suited to your unique requirements. Modules include education, asset management, instrument relocation, and lifecycle planning.
By modeling your business and providing lab intelligence for management decisions, we deliver:
Cost savings of 10% to 25% (avg.) through increased efficiencies
Greater productivity by reducing scientist involvement in administrative and service tasks
Cradle-to-grave asset management optimizes the entire equipment lifecycle