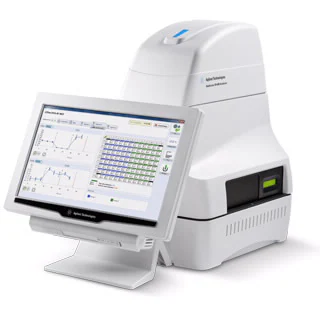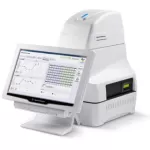 Seahorse XFe96 Analyze
Agilent Seahorse XFe96 Analyzers measure the oxygen consumption rate (OCR) and extracellular acidification rate (ECAR) of live cells in a 96-well plate format.
OCR and ECAR rates are key indicators of mitochondrial respiration and glycolysis as well as ATP production rate. Together these measurements provide a systems-level view of cellular metabolic function in cultured cells and ex vivo samples.
For Research Use Only. Not for use in diagnostic procedures.
---
96-well plate format accommodates many conditions in a single run, for flexible assay design, dose-response studies, and screening
Reports real-time metabolic rates in minutes, without sample extraction or labelling
Four-port injection system with automated mixing function, for detection of live-cell responses to substrates, inhibitors, and other compounds in real time
High-sensitivity analysis of as few as 5,000 cells per well using the custom 96-well plate
Precision-controlled heating tray, maintains 16–42°C temperatures (12–20°C above ambient conditions), for compatibility with a variety of sample types
Quickly determine dependency of cellular energy production on mitochondrial substrates
Generate a metabolic phenotype within one hour for fast data turnaround
Analyze 3D samples such as spheroids and islets
Wave software allows easy assay protocol creation and data analysis on your desktop PC and export to common spreadsheet and graphing programs
Amperage
Analyzer Application
Assay Running Volume
Assay Wells
Communication
Controller Description

Combination of Windows 10 computer and touchscreen display with full assay design, control, and analysis capability

Controller Touchscreen
Controller Type
Depth
Height
Injection Ports per Well
Memory
Microchamber Volume
Operating Environment Relative Humidity
Operating Environment Temperature
Operating Voltage
Sample Requirements
Sample Temperature
Software Included

Wave Controller
Windows 10 Enterprise
Wave Desktop unlimited use license

Volume per Port Injection
Weight
Width
Monitors bioenergetics of live cells, in real time, in a microplate
The two major pathways to produce energy, mitochondrial respiration and glycolysis, involve cellular consumption of oxygen and efflux of protons, respectively.  Seahorse XF technology uses label-free sensors to detect extracellular changes in these analytes in order to measure rates of cellular respiration, glycolysis, and ATP production.  Cells are seeded in the assay wells of the custom 96-well XF microplate at a confluency of 50-90%. Suspension cells are attached to the well bottom to maximize sensitivity.
Forms a microchamber and calculates rates of extracellular flux in minutes
The instrument lowers the cartridge probes into the assay wells. The sensors are positioned 200 microns above the well bottoms, forming transient microchambers of approximately 2 microliters.  As the oxygen and pH levels change, the changes in the sensors are read by the instrument.  Measurements are typically made for 3 minutes and rates are calculated automatically. Upon completion of this measurement period the probes are raised, allowing the extracellular medium to come back to baseline conditions.
Injects up to 4 compounds to test responses or interrogate biology in real time
The sensor cartridge also contains ports (4 per well) to enable injection of modulators into the cell wells during the assay. When specified by the instrument protocol, the system injects compound "A" into the assay wells and performs a gentle mixing step to ensure distribution of the compound throughout the assay medium.  All wells are processed in this manner simultaneously.  Subsequent measurement cycles, any additional injections specified by the protocol, and rate calculations are performed automatically.