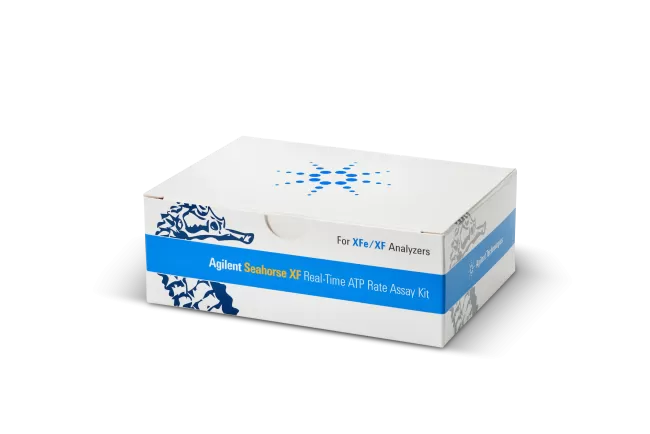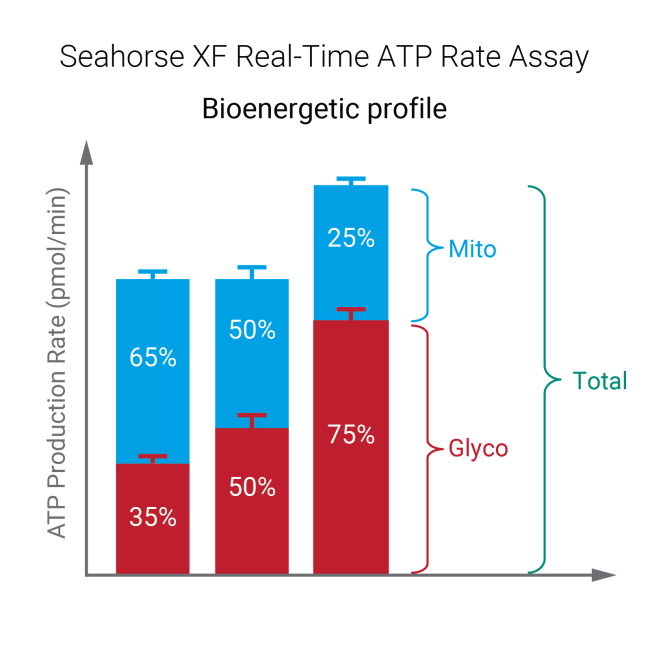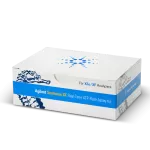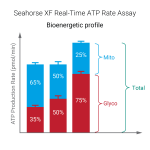 Seahorse XF Real-Time ATP Rate Assay Kit
The Agilent Seahorse ATP Real-Time rate assay is the only assay that quantifies the rate of adenosine triphosphate (ATP) production from glycolysis and mitochondria simultaneously using label-free technology in live cells. The real-time kinetic quantification delivers a dynamic picture of cellular bioenergetics, providing researchers with unique insights into cellular phenotype and function. This assay should be performed using XF pH-defined media. Please refer to the assay user guide to select the correct media.
Each assay kit contains sufficient materials for six full-plate tests and is available in two packaging sizes. The XF kit is for use with Agilent Seahorse XF Pro, XF/XFe96 and XFe24 Analyzers. The XFp kit is for use with the Agilent Seahorse XF HS Mini and XFp Analyzers. The Real-Time ATP rate assay is not compatible with the Agilent Seahorse XF24 or XF24-3 Analyzers. It is only compatible with standard XFe96, XF96, and XFe24 cell culture plates (V3 and V7 PS), XF HS miniplates, and XFp miniplates.
For Research Use Only. Not for use in diagnostic procedures.
---
Simultaneously measure basal ATP production rates from mitochondrial respiration and glycolysis. Total ATP production rates can also be obtained
Assess the effect of compounds on ATP production rates
Generate real-time kinetic data in live cells, allowing users to assess the interplay and relationship between energy metabolism and cellular functions
Validated for and best performed with Agilent Seahorse XF DMEM medium, pH 7.4 (Cat. No. 103575-100) or Seahorse XF RPMI medium, pH 7.4 (Cat. No. 103576-100)
Kit components are reconstituted directly in the assay medium, eliminating the need for DMSO or other solvents
Each lot is rigorously tested and validated with functional assays to deliver consistent and robust results, eliminating the cost associated with failed experiments
Upload your assay result file to your Agilent Seahorse Analytics account to calculate and report parameters of the XF Real-Time ATP Rate assay, share with collaborators, or export data to Microsoft Excel or GraphPad Prism for other graphing or analysis needs
Quantifies ATP production from glycolysis and OXPHOS simultaneously
This assay can be used as a starting point to understand metabolism-supported cellular function.  It provides an overview of the energetic phenotype of the cells and allows for quantitative comparison of energy engines (mitochondria and glycolysis) in basal state.
The assay employs a sequential injection of Oligomycin and Rotenone/Antimycin A, and reports multiple parameters, including: glycoATP production rate, mitoATP production rate, total ATP production rate and XF ATP rate index.
ATP production rates are indicative of cellular activities (e.g., activation, proliferation, differentiation, etc)
This assay has broad applications.  It can be used for assessing metabolic phenotypic changes and revealing pathway contributions during cell activation, proliferation, and differentiation.  In the example shown in the left graph, during T-cell activation and differentiation, ATP production rates as well as pathway contribution undergo vast changes to support proliferation, cytokine production and other related activities.
The assay can also be used to assess or screen for compound effect on cellular ATP production with a view of pathway impact.
What's next?
This quick and simple assay provides suggestive clues about which energy engines are importance and what can be followed up with more in-depth characterization.  Check XF Cell Mito Stress Test or XF Glycolytic Rate Assay to find out what you can do next.